Things we're loving — June
There's always so much happening, it's easy to get overwhelmed and not know quite where to start. To help, we've compiled a short list of our favourite things this month in Melbourne, across Food, Film, Fashion and Fun. Use this list as a base to plan your social activities across the first month of winter!
Food:
Moonhouse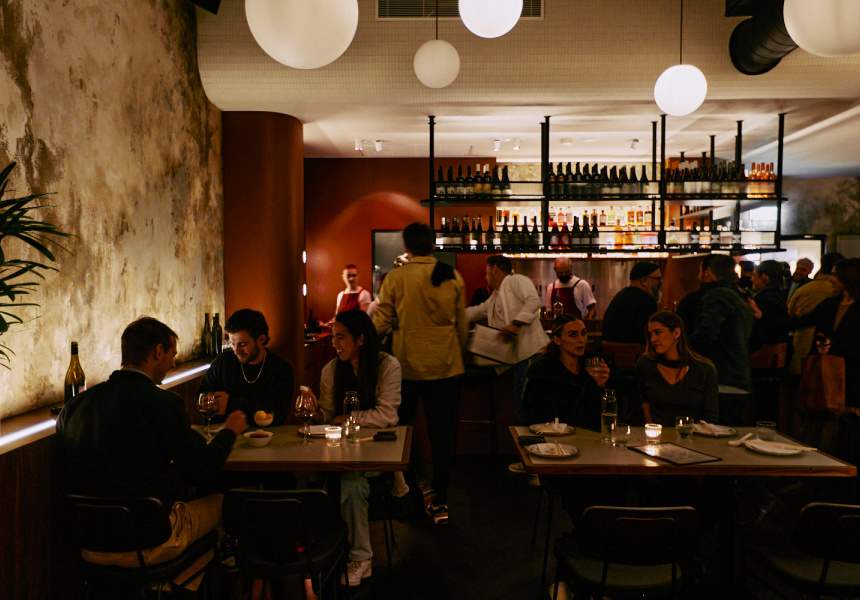 The latest offering from the Commune Group — the hospitality legends behind Melbourne staples Hanoi Hannah, Tokyo Tina, and New Quarter — Moonhouse brings a touch of Cantonese Culture to Melbourne's Southeast. Occupying the iconic art deco style bank on the corner of Carlisle and Nelson Streets in Balaclava, Moonhouse's opening has been delayed by Covid, and renovation project requirements, but the wait is worth it. The interior of this iconic building has been transformed into a moody, vampy lounge bar vibe reminiscent of casinos in Macau. 
The cuisine offers a familiar, yet innovative palate for most diners. Imaginative takes on Chinese classics are accented by a specific focus on food from the South Eastern region of China. Top picks include the Hainanese Chicken Sandwich: a reimagined Hainanese fried rice in a simple bite-sized sandwich form; Prawn Toast, served with a prawn bisque instead of the standard vibrant sweet & sour sauce served at yum cha; the Clay Pot Fried rice, bringing forth the flavour of Hong Kong; and the Duck Ceremony: a boujee take on classic duck pancakes. Complement your meal with a tipple from the exclusively Australian-based wine list, designed specifically to enhance the flavours of this rich cuisine, or opt for an elevated take on a classic cocktail.
Moonhouse opens on Wednesday the 1st of June, and bookings can be made here.
Film:
We're hitting the Northern Hemisphere Summer, and with that we're starting to see reviews rolling in from the major film festivals. It's always hard to pick just one film, so we've picked two of our favourites from this month's releases.
Akoni
The debut feature film from Australian Director Genna Chanelle Hayes, Akoni tells the story of a young Nigerian refugee as he struggles to adapt to life in Australia after being displaced from his friends, family and home by war. A poignant story familiar to so many, Akoni offers a heartfelt tale of struggle, love, loss and acceptance. Featuring a stellar line-up of well-cast actors, Akoni is a story of opening our hearts and homes to care for others, that is perhaps more relevant than ever in light of the current Ukrainian Conflict.
Akoni is released to mainstream Australian cinemas on June 30th, but is available at some indie cinemas before then.
The Kitchen Brigade
The Kitchen Brigade is a French language film with a quintessentially French flavour — that elusive combination of light-hearted humour dashed with thought-provoking moments. Initially screened as part of the French Film Festival earlier this year, The Kitchen Brigade is finally being released for mainstream audiences this June. Lead actress François Cluzet plays a middle-aged sous chef finally about to open her own gastronomic restaurant, when financial difficulties land her in the kitchen of a home for young migrants. What follows is a humorous escapade of interactions amongst the French staff of the home and the young migrants, as both cohorts learn about the beauty of life from the other.
The Kitchen Brigade is released at Palace Cinemas across Melbourne on the 16th of June.
Fashion:
This season has seen a return of Brown as everyone's favourite neutral. Perfectly balanced between the standard black and white options, Brown offers an easy transition from day to night, while highlighting the complexion beautifully, and also offering a diverse array of options for fashion.
This broad-brimmed wool hat has been created from fibres typically discarded by the fashion industry for their lack of aesthetic appeal. Not only does this hat help actively prevent waste, but with each purchase Will & Bear plant 10 trees, thus
helping to heal our planet. We love the warm tone of this classic fedora shape in their new coffee colour, and can't wait to be keeping our heads snug but stylish in it.
The Clothes: Robb & Lulu Open Knit Set in Chocolate Brown 
Current obsession: organic cotton open knit. For our Autumn/Winter Collection
this year, we've taken our favourite comfy loungewear shapes and elevated them with a stunning organic cotton open knit material. Lightweight, yet warm, our open knit has been created with our signature GOTS certified organic cotton threads, and is sure to keep you cosy as the days get cooler. Right now we're loving our Addison organic cotton top paired back with our Wichita Pant in Chocolate Brown. Not only do these pieces look gorgeous together, but they pair back with other wardrobe staples effortlessly. We recommend wearing the Addison loosely over a pair of jeans with boots for an easy casual dinner vibe.
This one is definitely an investment piece, but we think it's well-worth it. Dutch collective Maium have only been around since 2017, but they've quickly established a reputation for themselves as creators of high-quality wet-weather coats and bags. We're obsessed with their practical and eco-conscious take on the quintessential trench coat design. This essential trench is completely water resistant, with organic cotton base coated with a custom lacquer made from 111 recycled plastic bottles. A removable hood adds a further level of practicality meets fashion, while zippers on the side transform this trench into a poncho so you can ride or scoot to work and stay dry — it is a Dutch company after all!
Fun:
Rising Festival 
Cancelled in 2020 due to the Pandemic, and cut short last year by Lockdown, Melbourne's latest arts and cultural festival is finally having its time in the moonlight this year. Self-described as a 'surge of art, music, performance and ceremony in the heart of Melbourne,' Rising is a festival truly like no other. Running each night between the 1st and 12th of June, Rising offers something new and different every night from premium artists, creators and cooks across Melbourne. A selection of paid, and free events makes this festival an explosion of the senses for all budgets. We particularly recommend visiting The Wilds at the Sidney Myer Music Bowl: an immersive journey through an enchanted wonderland complete with a side of ice skating.
Rising Festival runs from the 1st to the 12th of June, and the event program can be found here.
---